Currency
Cash Machines
Weather
Safety
Where is Beijing ?
Bargaining
Fake Goods
Groceries
Don't know anything about Chinese food ??

Featured western restaurant
Beijing China
Just where exactly is Beijing anyway ?? So many foreign tourists and business people come to Beijing with no real idea of where they are, or how big the country is. This page will help you get your bearings.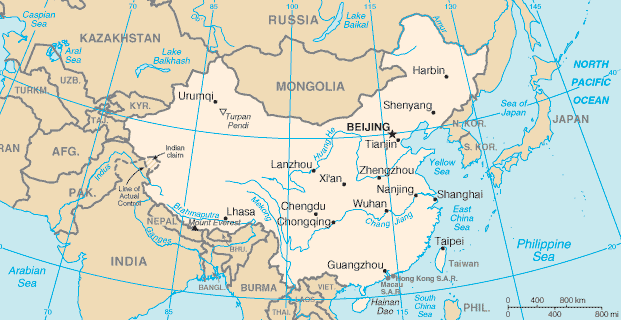 Map courtesy of CIA World Factbook
Beijing is situated towards the north east corner of China. The map above is of northern Asia with China being the light colored un-marked area. If you have no idea where the area above is located in the world, we suggest you visit worldatlas.com where you can locate the Asia region.
Beijing China city facts
Population: approx 14,000,000 fluctuating daily
Distances to other cities in China and nearby countries
Data provided by timeanddate.com - click to see time and telephone information about the city
Recommended tour operator
Bargain/haggle a great price !