Bu Jian Bu San
Jin Hu
Steak and Eggs
Don't know anything about Chinese food ??

Featured western restaurant
Mid-range Restaurants 2 - Jin Hu (GL Cafe, Golden Lake)
Jin Hu (GL Cafe) is another chain restaurant in the style of Bu Jian Bu San, there are at least 2 or 3 in Beijing. The most popular one is located near tower 2 of the China World Trade Center (Guo Mao). Go to exit B of the Guo Mao subway station then turn left and head towards tower 2 across the parking lot. The first entrance on the left you see is the Sunlight department store. The GL Cafe is right next door with a small entrance leading to a large cafe.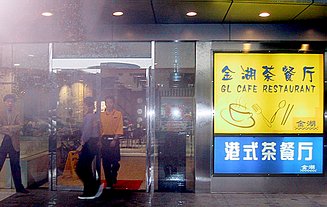 This restaurant is clean and comfortable. It has a slightly wider selection of food than Bu Jian Bu San. It has a good western breakfast deal from 4.15am till 11am. Avoid peak hours between 6.45pm - 8.15pm where it is difficult to get a seat. Specializing in Hong Kong style food but also has a large selection of other kinds of food including pasta, seafood, pastries, you name it.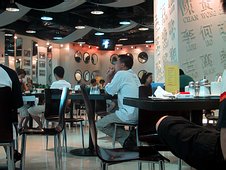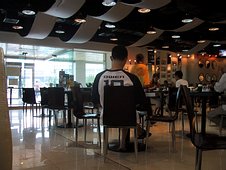 Like Bu Jian Bu San hygiene and cleanliness are top-notch and the price is very reasonable. Great atmosphere. This place doesn't usually have a non-smoking area.
Its open 24 hours which is extremely convenient.
Taxi directions (print and hand to driver).
金湖茶餐厅
国贸2座, 3环东。
This page sponsored by: Costa Rica Hotel & Resort Reservations
Bargain/haggle a great price !