Bu Jian Bu San
Jin Hu
Steak and Eggs
Don't know anything about Chinese food ??

Featured western restaurant
Mid-range Restaurants - Steak and Eggs
When approaching the Steak and Eggs restaurant, you might be forgiven for thinking that it is just another extremely Chinese restaurant trying to attract a more western clientele using a corny name. Fact is, things couldn't be further from the truth.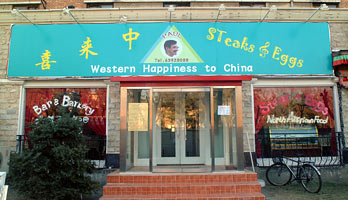 Inside, you can not only choose from a menu which is chocked full with traditional American fare, but when your order arrives, it actually tastes like the real thing. This is because the head Chef, Paul, honed his skills in the kitchen's of Canada and Florida, ensuring that your "over-easy" eggs actually are indeed "over-easy".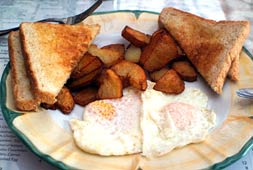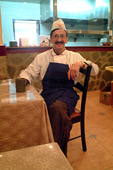 The interior of Steak and Eggs is not traditional American diner style, more of a mid-western lounge affair, with a few Beijing overtones such as a DVD player and TV perched on the bar. The menu also is much more extensive than a typical diner with a large selection of main courses and a host of huge American sized cakes and gateaux's. In fact, they can make specialty cakes and pies to order ready for delivery or pickup. This part of the business is becoming increasingly popular it seems as I witnessed numerous large cakes being whisked off to parties in the few hours I spent taking in way too many coffee refills.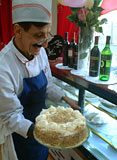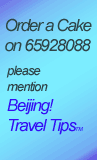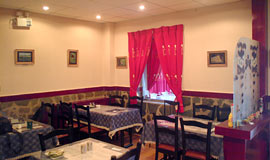 Steak and Eggs will easily capture the hearts of North American visitors to Beijing with its numerous offerings that you just can't find anywhere else, like the all day breakfast, real toast (even wheat), real never-ending American diner-style coffee, not to mention hot apple pie. Couple this with very reasonable pricing and you have the recipe for success.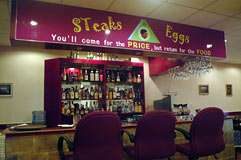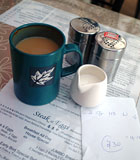 Steak and Eggs is situated directly behind the Friendship Store. The best way to get there is to take the subway to the Jianguomen station, then head up Ri Tan Lu behind the CITIC building and then take the first right turn. Walk along this street and its on the right near the end. You can't miss it as it has a big picture of the head Chef, Paul, on the sign.
Taxi directions (print and hand to driver):
喜来中
Steak and Eggs
秀水南街, 友谊商店的后面。
This page sponsored by: Panama Hotel & Resort Reservations
Bargain/haggle a great price !