Bicycle city
Apartment living
News billboards
Black hair
Bike-locked doors
Construction
Road barriers
Crazy English
Tea jar
Table sleepers
Inflatable arch
Gallery girls/boys
Bridal show
Sidewalk driving
Background music
Big thermos flask
Bus pass queue
Pants slit
Squat toilet
Rodent buffet
Don't know anything about Chinese food ??

Featured western restaurant
Beijing Sights - Apartment living
One of the first things you will probably notice when visiting Beijing is the abundance of large house blocks within the city center and beyond. These places look as if they were constructed in the 1970's and are home to the majority of Beijing residents. Most are not built to good standard and look like drab and dirty places from the outside.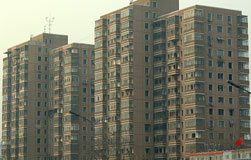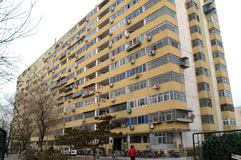 If you ever get a chance to go inside one of these beasts, you would find that the stairs and elevator areas are also grubby beyond belief. This is partly due to the terrible onslaught of dust, pollution and dry windy weather that beats down on Beijing on a daily basis, and partly due to the fact that people don't seem to pay much attention to the cleanliness of common, public areas. Its like they don't notice the dust (which is another story).
Old style apartment blocks (top row, right and left).

Newly constructed SOHO housing / office / retail developments (bottom row)
When you enter the door to an individual's apartment however, you will often find it spotless, and full to the brim with the trappings of close family life. Beijing residents seem to live in perfect harmony with one another in these communities. Often you'll find all the lights out and everyone asleep by 10pm or 11pm. The level of community respect you'll find here is unprecedented in a lot of supposedly civilized, developed countries. Yes, these are the types of buildings that the UK deemed uninhabitable a long time ago because of their propensity to spawn crime and anti-social behavior. In the UK and other countries they've all been demolished. In Beijing, people seem to be fine with these blocks. They certainly don't have any of the problems experienced by those other cultures.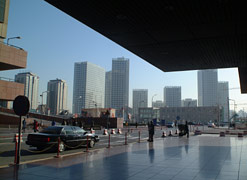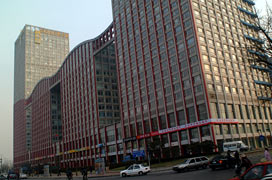 These buildings are sure to have a place in the New Beijing, because, with the exception of the odd suburban town house, that's all that is being built right now. These new versions of the same old thing are being snapped up by the average Beijing resident wishing to trade up a little. It'll be interesting to see how long it takes for the "development / civilization" of Beijing to render this style of community residence uninhabitable.
Recommended tour operator
Bargain/haggle a great price !