Bicycle city
Apartment living
News billboards
Black hair
Bike-locked doors
Construction
Road barriers
Crazy English
Tea jar
Table sleepers
Inflatable arch
Gallery girls/boys
Bridal show
Sidewalk driving
Background music
Big thermos flask
Bus pass queue
Pants slit
Squat toilet
Rodent buffet
Don't know anything about Chinese food ??

Featured western restaurant
Beijing at the time of writing (September 2003) probably still has more bicycles in general daily use than any city in the world. However, this is changing rapidly. During the past 3 months Beijing's car population has surged to way past the 2 million mark. Although the number of bikes is less than 5 or 10 years ago, Bicycles are still a major tourist sight in Beijing.

Beijing people think nothing of riding for an hour and a half to work each day and all around you can notice huge parking lots just for bikes. As appose to most places in the world Beijing people actually have to pay to park their bike in these lots.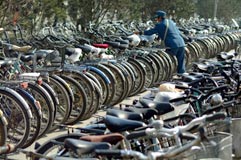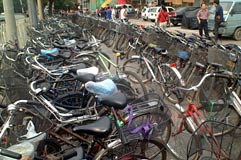 Theft of bikes is serious in Beijing and so people have the "you could call it wise" idea that if they own a really old, terrible looking, beaten up bike, it is less likely to be stolen. Not sure how much of a point they have there but as a result, a smart looking bike is a rare sight indeed.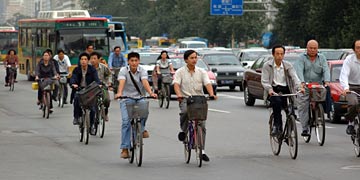 You do however see serious locks and security devices, even on the worst looking bicycle. There is so much to be said about bicycles in Beijing and our other sights will hope to cover most of the other details.
Recommended tour operator
Bargain/haggle a great price !