Bicycle city
Apartment living
News billboards
Black hair
Bike-locked doors
Construction
Road barriers
Crazy English
Tea jar
Table sleepers
Inflatable arch
Gallery girls/boys
Bridal show
Sidewalk driving
Background music
Big thermos flask
Bus pass queue
Pants slit
Squat toilet
Rodent buffet
Don't know anything about Chinese food ??

Featured western restaurant
Beijing Sights - Big thermos flask
In the west, we have thermos flasks. In cold climates we carry around a small to medium sized thermos flask, usually filled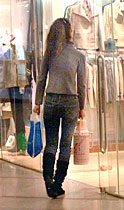 with coffee or tea when we go camping, fishing, occasionally to the park, school.
In Beijing, thermos flasks are mainly used for storing water .. large quantities of boiling hot water, usually so that a whole office or classroom can make tea throughout the day.
Instead of boiling a small jug of water in a kettle. Beijing residents often travel to a central hot water boiling facility where they can fill up their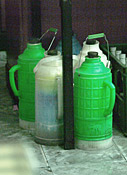 "giant" flasks with scalding hot water for a tiny sum of money.
As a result, you often see people wandering around carrying huge flasks. As usual... this is a Beijing sight and mostly bizarre to the western tourist eye.
Recommended tour operator
Bargain/haggle a great price !