Bicycle city
Apartment living
News billboards
Black hair
Bike-locked doors
Construction
Road barriers
Crazy English
Tea jar
Table sleepers
Inflatable arch
Gallery girls/boys
Bridal show
Sidewalk driving
Background music
Big thermos flask
Bus pass queue
Pants slit
Squat toilet
Rodent buffet
Don't know anything about Chinese food ??

Featured western restaurant
Beijing Sights - Bike-locked doors
Another one of Beijing's great mysteries. The glass door held "securely" closed by a bicycle lock. Now, correct me if I'm wrong, but I thought that these new, modern, glass doors had built-in locks at the top and bottom which drill large spikes into the door frame.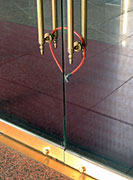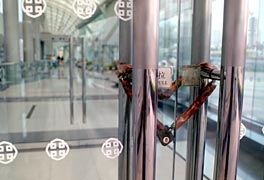 In Beijing, however, these locks are not sufficient it seems. Apparently, nothing secures these modern glass doors better than a good old fashioned bike lock.
On the positive side, one could mention that the unsightly, most obvious bike lock serves as an early warning to would-be openers, that these doors are in fact locked at the bottom and top. This prevents people from charging headlong into them expecting them to open. If you look at it this way it must save the door from a lot of undue stress and possible lock damage.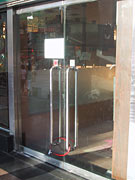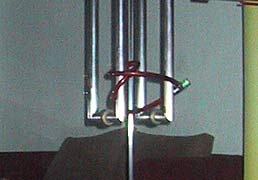 Admittedly, we have no idea about the history of this practice, we just find it yet another, amusing Beijing Sight.
Recommended tour operator
Bargain/haggle a great price !