Beijing Sights - Black hair and black eyes
Apart from those modern Beijing trend-setters who've dyed their hair blond or are wearing colored contact lenses, all Chinese people display the Asian trait of black hair and black eyes. What's so special about that you might ask ? Well, you need to be immersed in the environment to understand, but hopefully some of these pictures might help give you the feeling.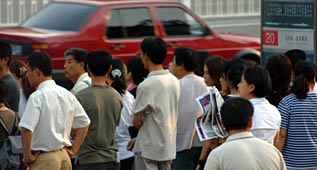 Black is not a cheerful color and gives a threatening and menacing feel. Even Chinese literary works use the adjective black to better describe an unpleasant crowd situation.
Western races tend to have hair and eyes of many different colors and so a crowd seems to be broken just like cars on a freeway all have different colors.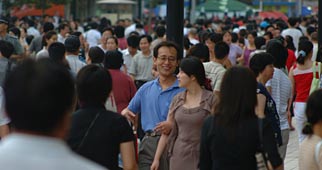 Whilst hair is an easy thing to spot when you arrive in Beijing, eyes on the other hand often go unnoticed. Chinese irises tend to have a very dark brown or completely black color. Although the Chinese see nothing strange in this, they do find western eye colors fascinating.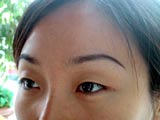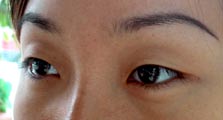 Blue is a particularly good color from a Chinese person's point of view. If you are a blue-eyed traveler to Beijing, be prepared for some serious attention, you will be a very popular attraction.