Bicycle city
Apartment living
News billboards
Black hair
Bike-locked doors
Construction
Road barriers
Crazy English
Tea jar
Table sleepers
Inflatable arch
Gallery girls/boys
Bridal show
Sidewalk driving
Background music
Big thermos flask
Bus pass queue
Pants slit
Squat toilet
Rodent buffet
Don't know anything about Chinese food ??

Featured western restaurant
Weddings are big business in traditional China. In Beijing, young couples, no longer content with a traditional red dress of ancient times now yearn for the full-on western "white wedding" experience.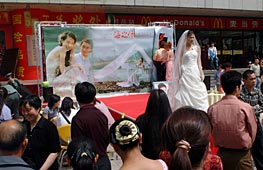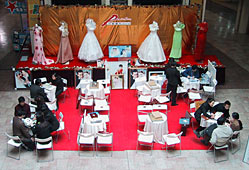 The most important part of the wedding it seems are dress, makeup, hair and photographs. Eager to cash-in on this trend, there are hundreds of places in Beijing where you can get it all done, often just for the cookie-cutter photographs, which can be done at any time, not just during the wedding. These places all fiercely compete for business, and what better way to show off your wares than the modern cultural phenomenon of the stage show activity.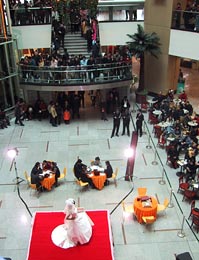 At this show you can see models, much taller than the average human, parading the latest wedding dresses, and you can sit down at a table with your beloved and sign up for the whole package right there and then. For a guy, sitting down with a girl at one of these tables in public has got to be one of the biggest displays of commitment a guy can give. For a girl it gives an amazing amount of "face" (tune into this site later for complete details of the Chinese face concept).
Bridal shows can popup anywhere, and at any time. Outside in the summer, but confined to large shopping malls in the freezing winters.
Recommended tour operator
Bargain/haggle a great price !