Beijing Sights - Bus pass line / queue
Wow, what is that ? McDonald's is having a sale ?? some kind of new burger ?? Wrong. You will see this sight from around the 27th of each month, up until the early days of the next month.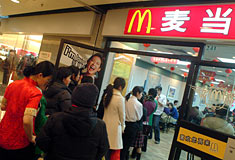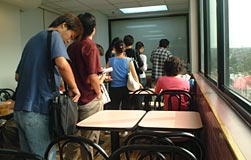 What they want is to renew their monthly bus pass. There are many places around Beijing where you can do this, but by far the most popular place is McDonalds. One assistant will reserve one of the normal tables and setup a little "renew your bus pass" office. There you will get a new ticket stuck to your pass and of course an official stamp across it.
Just out of interest, a Beijing monthly bus pass costs around 25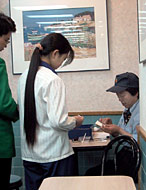 RMB which is about $3 US per month. This doesn't allow you to ride on every bus, mainly the cheapest, non-air conditioned varieties, but it would allow you to get pretty much from one corner of the city to any other. It is however, only available to Beijing residents, unless you have some connections.
McDonald's makes a killing on these days as people inevitably stop for a coffee or snack before or after the procedure. I'm sure in the USA it would be against some rule or law to do this kind of thing. Again... catch it in Beijing.
This page sponsored by: Phuket Hotel and Resort Reservations Thailand