Beijing Sights - Crazy English
Unfortunately we are not referring to the popular Chinese book and TV series about learning spoken English. We are talking about the many, many examples of incorrect English words and phrases printed around Beijing. Before we go any further we must point out that these poor English examples get fewer by the day as the city makes an effort to improve the overall English level before the Olympics in 2008. Anyway, until then, we hope the citizens of Beijing and China can learn to laugh along with us. Also, for any Chinese people reading, the correct spellings are provided.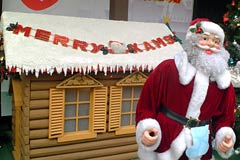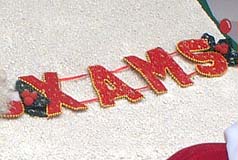 Ah yes, Christmas has just passed, and we still see the evidence of the one time when that huge factory printed hundreds of thousands of "Merry Xams" garlands. Should be "Merry Xmas" (Xmas being a short word for Christmas).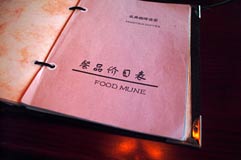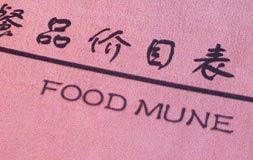 Then there's the coffee shop which has a "Food Mune". Should be "Food Menu" maybe ?. (ok, these are the easy ones to correct).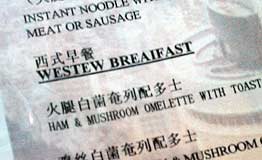 Certain restaurants not only cater for the Chinese audience, they also have a "WESTEW BREAIFAST" it seems. Should be "WESTERN BREAKFAST" we think.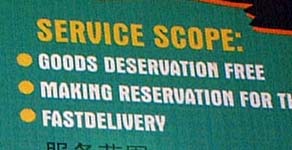 Now, what exactly is free here ? "GOODS DESERVATION" ? Is that delivery ? reservation ? or a combination of the two ? We can also see here the disregard for the " " space concept with the words "FASTDELIVERY" jammed together.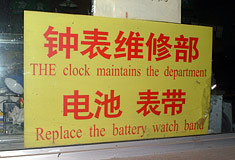 If you start to include mistranslations and grammatical errors, things get even more interesting. Take the photo above left. Apparently, the clock runs the whole place ?!! We think it should be "MAINTENANCE DEPARTMENT" rather than "MAINTAINS THE DEPARTMENT".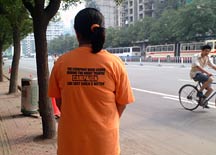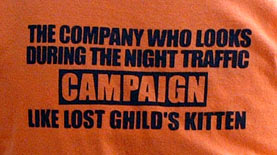 Then we just get onto the fact that Chinese people think English writing is cool, no matter what it says. Take the t-shirt above for example, which not only really exists, is very popular around Beijing at the time of writing. For those of you who are not great at English, the words mean NOTHING ! in fact, less than nothing. Or maybe its poetry ??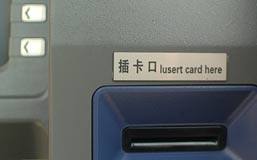 Finally we get to the category regarding letters in words which have for some reason been placed upside down thus changing the word completely. Notice the label in the Cash Machine picture (above left) which should read "Insert card here".
There are many examples of crazy English around Beijing, if you experience any particularly amusing examples, by all means take a picture and send it in to us. It might even be included here on this page one day.