Bicycle city
Apartment living
News billboards
Black hair
Bike-locked doors
Construction
Road barriers
Crazy English
Tea jar
Table sleepers
Inflatable arch
Gallery girls/boys
Bridal show
Sidewalk driving
Background music
Big thermos flask
Bus pass queue
Pants slit
Squat toilet
Rodent buffet
Don't know anything about Chinese food ??

Featured western restaurant
Beijing Sights - Inflatable arch
Its got to be said that when it comes to promotion and marketing the Chinese make an "all-out" effort... though every expense IS spared. To this end why waste money on expensive promotional stages and decoration when you can get something you can blow up quickly when needed and then pack away later.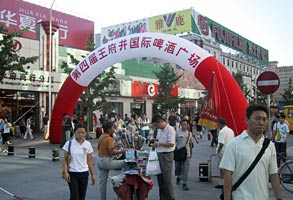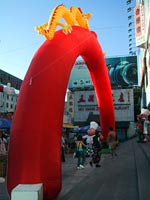 The Chinese mastery of the tacky is nowhere more evident in their mastery of the production of huge promotional arches. They have surely got to lead the world in this industry ... although if you wanted one in a color other than red it might be pushing it.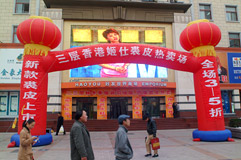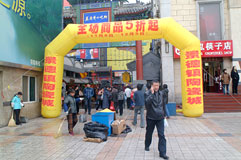 In Beijing, the giant, usually red, but not necessarily, inflatable arch is a big statement which says "look over here ! something cool is going on !!", however to most western visitors it says, "geez... who the hell left this tasteless monstrosity here ? cheap and nasty right this way !!"
If you do not manage to see a giant inflatable arch during your visit to Beijing, don't be sad and think yourself lucky.
Recommended tour operator
Bargain/haggle a great price !