Bicycle city
Apartment living
News billboards
Black hair
Bike-locked doors
Construction
Road barriers
Crazy English
Tea jar
Table sleepers
Inflatable arch
Gallery girls/boys
Bridal show
Sidewalk driving
Background music
Big thermos flask
Bus pass queue
Pants slit
Squat toilet
Rodent buffet
Don't know anything about Chinese food ??

Featured western restaurant
Beijing Sights - Newspaper billboards
Maybe someone can write in and tell us why, but Beijing's newspapers are not only for sale on the street corner, you can view them for free underneath billboards throughout the city.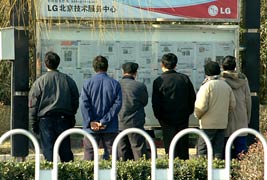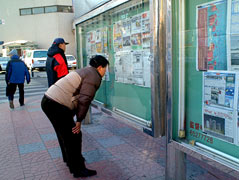 There are obvious advantages to this of course. When you're out walking your dog, or bird, you can peruse the latest headlines as you go. You can also save the whopping 0.5 RMB that you would have spent on it.
| | | |
| --- | --- | --- |
| | Even at night, Beijing's lit newspaper billboards attract attention (left). | |
I guess another benefit, is that it serves to advertise the particular newspaper concerned. Maybe more people will go buy it having read it first for a few days under the billboards. Another reason would be to raise the awareness and education exposure of the general public.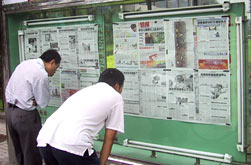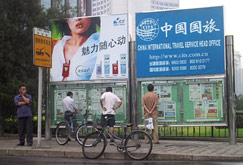 Not sure who pays the cost of all this. It will likely disappear in the future as the advertising real estate becomes more and more valuable. For now, enjoy this Beijing sight whilst you still can.
Recommended tour operator
Bargain/haggle a great price !