Bicycle city
Apartment living
News billboards
Black hair
Bike-locked doors
Construction
Road barriers
Crazy English
Tea jar
Table sleepers
Inflatable arch
Gallery girls/boys
Bridal show
Sidewalk driving
Background music
Big thermos flask
Bus pass queue
Pants slit
Squat toilet
Rodent buffet
Don't know anything about Chinese food ??

Featured western restaurant
If you're lucky, or unlucky, depending on how you look at it, you will notice certain children wandering the streets of Beijing with a slit of varying sizes in the back of their pants.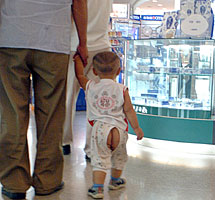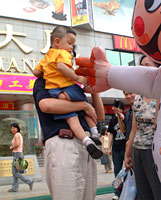 At first, you probably think its some really poor child who's trousers have come apart and the seams and whose family are too poor to fix them. Actually these pants with the built-in slit can be bought new from the store.
The reason is due to the age-old custom/practice of being able to stop at will and take a bathroom break, kind of like a dog would do on the street. This practice is still widely evident but as the city continues modernization, the government pleads with the public to be ever more polite and civilized using advertising campaigns. Along with the easier accessibility of Daipers/Nappys, the practice of letting your child "go" wherever he/she wants is becoming frowned upon by the growing civilized population of Beijing.
In summation, you might see a child or two with the fancy pants. If you're unlucky, you'll witness a stop and pee moment. If you're very unlucky, you might witness the horror of a child letting loose a complete "load" whilst in transit on public transport (this is very rare, but does happen).
Recommended tour operator
Bargain/haggle a great price !