Bicycle city
Apartment living
News billboards
Black hair
Bike-locked doors
Construction
Road barriers
Crazy English
Tea jar
Table sleepers
Inflatable arch
Gallery girls/boys
Bridal show
Sidewalk driving
Background music
Big thermos flask
Bus pass queue
Pants slit
Squat toilet
Rodent buffet
Don't know anything about Chinese food ??

Featured western restaurant
Beijing Sights - Pavement/sidewalk driving
You're walking along the pavement, minding your own business, when suddenly a loud beep comes from behind. As you turn around a large vehicle scurries by. Not something you encounter much in western countries, but in Beijing, its an everyday occurrence.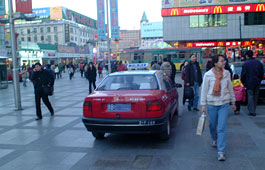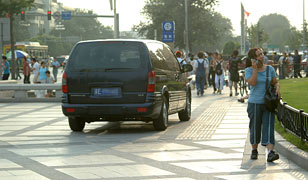 Sometimes the cars are on their way to legitimate parking spaces, bizarrely located on or behind large pavements (pictured below right). You even have to pay for the privilege of parking on the pavement in many areas. Others are just taking a short cut (above and below left) or are completely lost (above right).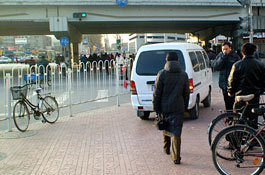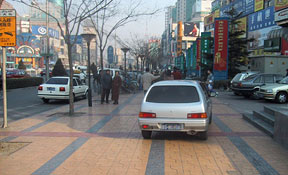 So be warned, Beijing's pavements are not just for pedestrians, it seems. Please don't have a heart attack the first time you encounter car sneaking up behind you.
Recommended tour operator
Bargain/haggle a great price !