Bicycle city
Apartment living
News billboards
Black hair
Bike-locked doors
Construction
Road barriers
Crazy English
Tea jar
Table sleepers
Inflatable arch
Gallery girls/boys
Bridal show
Sidewalk driving
Background music
Big thermos flask
Bus pass queue
Pants slit
Squat toilet
Rodent buffet
Don't know anything about Chinese food ??

Featured western restaurant
Beijing Sights - Rodent buffet
If you venture towards the back streets or the inner workings of Beijing buildings, ok, even in some cafes. You might notice these little things on the floor. They don't look very appealing so you know something weird is going on.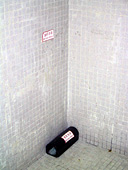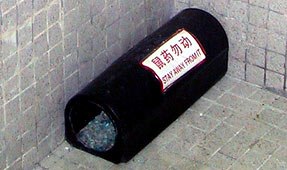 The large red warning labels read "Stay Away From It" in English and something in Chinese. Actually, these things are little gadgets to feed (ok, poison) mice and other rodents which might be scurrying around the back alleyways of the building. Stay away from it ! Indeed.
Recommended tour operator
Bargain/haggle a great price !