Bicycle city
Apartment living
News billboards
Black hair
Bike-locked doors
Construction
Road barriers
Crazy English
Tea jar
Table sleepers
Inflatable arch
Gallery girls/boys
Bridal show
Sidewalk driving
Background music
Big thermos flask
Bus pass queue
Pants slit
Squat toilet
Rodent buffet
Don't know anything about Chinese food ??

Featured western restaurant
Beijing Sights - Road barriers
And why didn't the Beijing chicken cross the road ?, bird flu ?, no ..., because of the new anti-road crossing barriers. These things are three quarters the height of the average human and have a very ingenious design. Even if you are a 6 foot tall foreign visitor, it is no easy feat to climb over these things.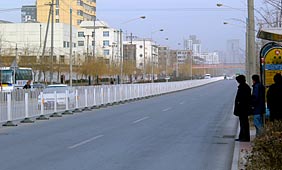 Back in the old days of Beijing, ie. less than two years ago, the streets were streaming with jay-walking pedestrians. The pedestrians ruled the roads with the cars a distant second. Of course this was fine at that time as there were still horses and carts going down the roads and there were very few cars. In the past year, Beijing's cars have grown to way over the 2 million mark. Even what used to be the quietest of inner city streets are now clogged by drivers seeking to bypass the gridlock on the main ring roads.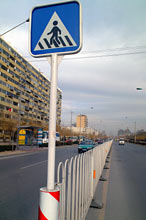 To allow the ever-increasing number of cars to move more smoothly, the city is starting to erect these pedestrian hurdles to force people to cross the road in designated spots. It certainly works well, but for the fact that these barriers are often constructed in the middle of the night, without warning , and people wake up to find that they now have to walk half a mile to get to the bus stop directly opposite their house.
Another not so smart thing about the barriers are that they are pretty thin,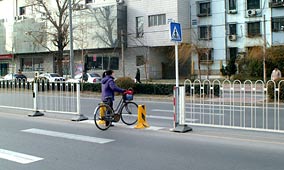 and the pedestrian crossing points do not allow enough room for people to stand in safety whilst waiting for the second carriageway's traffic to pass. This is compounded when the person using the crossing is pushing a bicycle and each end protrudes heavily into oncoming traffic on both sides. Dangerous !
Recommended tour operator
Bargain/haggle a great price !