Bicycle city
Apartment living
News billboards
Black hair
Bike-locked doors
Construction
Road barriers
Crazy English
Tea jar
Table sleepers
Inflatable arch
Gallery girls/boys
Bridal show
Sidewalk driving
Background music
Big thermos flask
Bus pass queue
Pants slit
Squat toilet
Rodent buffet
Don't know anything about Chinese food ??

Featured western restaurant
What can we say ? .. This kind of toilet is still in abundance in Beijing and there is no sign of it going away very quickly. This is partly due to some Beijing/Chinese people thinking that it is more hygienic than a western-style "sit down" toilet.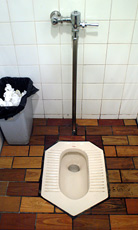 The theory goes that if your naked flesh is in contact with something that other people's naked flesh has also come into contact with, you could catch some disease. Well, their may indeed be a shred of truth in that. The other truth, however, is that with a western-style toilet, a lot more of a person's "output" has more of a chance of hitting the "target". This being the case, squat toilet's surroundings are often both wet and dirty, which is not great for your trousers or anything you may want to place on the floor whilst you "work".
The toilet pictured is one of the best and cleanest squat-style toilets to be seen in Beijing. If you're really unlucky, you can catch really terrible examples.
The squat-style toilets are still manufactured new and can be found almost anywhere. Most good hotels do feature western toilets though major new public places like shopping malls tend to have a mixture of both styles, so don't give up just because you see one of these toilets, look in all the booths just to make sure there isn't a sit down toilet lurking in one of them.
Unless you're insanely curious. We would recommend you give this style of toilet a miss. It requires a great amount of effort and leg muscle to use. Hold it till you get back to your hotel !
Recommended tour operator
Bargain/haggle a great price !