Tiananmen Square
Great Wall
Forbidden City
Summer Palace
Temple of Heaven
Beijing Zoo
Wangfujing
CCTV Tower
Don't know anything about Chinese food ??

Featured western restaurant
The Great Wall, as you probably know, is one of the few man made structures visible from space. From Beijing you can get to a few different pieces of the Great Wall within 2 or 3 hours by bus or car. The Badaling part of the great wall is a fully restored section which is long enough to make you feel that it is never going end.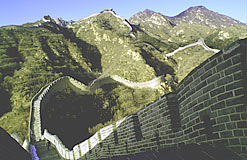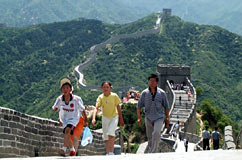 It does, however have two stopping points where you cannot walk any further. From the entrance following the route to the tallest point you can see and over to the stopping point takes about 2 hours (one way) unless you're some kind of Olympic Athlete. Not sure about the other end. We thoroughly recommend the Badaling part, as it is well managed and safe. The other parts are not fully restored and further away anyway.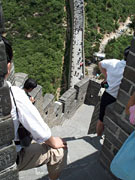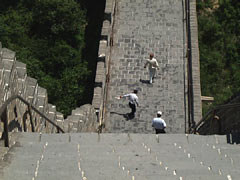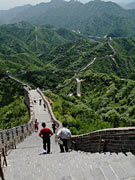 The Great Wall is extremely hard work. Some sections have steps and railings, other sections are just gradual steep slopes. Be prepared for extreme temperatures. If you go in summer you will be fried by the sun, in winter you will have a biting wind, extreme sub-zero temperatures, snow and ice.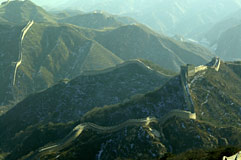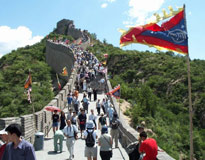 Even if you are not fit, it is worth taking the trip out, walking a few steps and knowing you can say you've stood on one of the modern wonders of the world. If you are fit, get there very early and touch those end points ! Very satisfying, and a surprisingly few number of people manage to achieve this. If you can get to an end point without stopping for a rest you truly are our hero.
To get to Badaling Great Wall you can get a tour arranged from your hotel. If you want to go it alone you can get a bus from various places around the city. We will update later with full details. Another option is to rent a taxi for the day. We have successfully rented a 1.60RMB taxi for the day for 400RMB. For this price the taxi will take you there, wait for as many hours as you'd like, and then return. If you use the meter it will cost near 800RMB to get there and back, so negotiate with the driver first, and pay at the end of the day.
This is the name of Badaling Great Wall in Chinese:
八达岭长城
Recommended tour operator
Bargain/haggle a great price !