Tourist Trail - Tiananmen Square
For us, there is no better place to get the true modern feel of Beijing. Tiananmen Square is huge open space surrounded on all sides by imposing official buildings. Apart from being a popular gathering place for tourists and kite flyers, it is still often used for any big celebration and for the government leaders to address the people.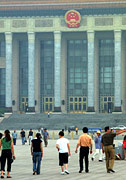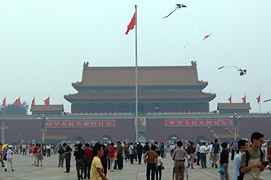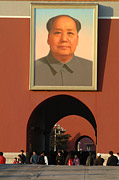 Every lamp post is equipped with an array of speakers which can convey the speakers message to a crowd in the tens of thousands. You can visit the square freely until 10.30pm at night. If you go during the day you can often buy a ticket to go up to the balcony from which the leaders address the people. This gives a very impressive view of the square and you can pretend to be the government figure of your choice

If at all possible, you must go check out the square at night as well as during the day. The atmosphere at night is different again and the square is beautifully lit. On a cold winter night with fog is really something. But don't arrive too late, at 10.30pm the soldiers come and evacuate the whole thing in minutes and its sealed off for the night.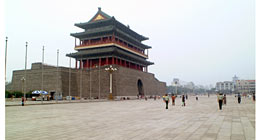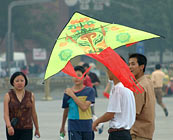 At sunrise and sunset the flag to the front of the square is raised or lowered by a squad of army personnel. This in itself is an interesting thing to watch. All the traffic on the busy Chang An Avenue is halted, around 30 soldiers march very ceremoniously across the road and the flag is hoisted up, or down the poll. Many people come to watch this, so get there an hour or so before if you want a good view.
Getting to Tiananmen Square is best done by subway or walking as taxis are not really allowed to stop anywhere near it. The are two subway stations on line 1, Tiananmen East (116) and Tiananmen West (117). They are both inconveniently situated a 5 to 7 minute walk away from the center of the square so there is no best station. Walking from the south entrance to Wangfujing Street takes about 20 minutes and is very pleasant. Just find the Beijing Hotel on Changan Avenue, walk past it and keep going west on Changan Avenue.
The Chinese name of Tiananmen Square is written below. You can use it to ask people directions or follow signs.
天安门